Nowadays, environmental sustainability is championed by many brands, businesses, and organizations, including construction companies. Companies that aim to address this issue get the opportunity to experience the numerous benefits of hiring environmental companies for construction projects.
Environmental companies can help construction companies understand and navigate solutions to new expectations and requirements from both governments and clients. The general public's heightened awareness of environmental issues, coupled with stronger environmental regulations, makes it even more imperative for companies to be conscious of the impact of their decisions and practices to the environment. More importantly, to seek options that will help their practices be more sustainable.
What are Environmental Companies?
An environmental services company consults with clients and provides various services to help them address any environmental issues in a project or their practices.
An environmental solution service provider is knowledgeable of environmental issues, as well as policies and regulations, and has technical expertise in sustainable practices and solutions. They help companies implement solutions to various problems that traditionally have unsustainable solutions. An environmental solutions company offers alternative solutions to pest management, specialized cleaning, hygiene, and disinfection.
Environmental Sustainability for Construction Companies
While the construction industry is rarely the target of environmentalists, it is widely known that the industry is not the most environment-friendly. It is a resource-intensive industry that also heavily contributes to noise, air, water, and land pollution. Predominant practices in the construction industry, which are often unsustainable, may also trickle down to seemingly minor details, such as the chemicals used to manage pests and poor management of waste in a construction project.
But, of course, construction companies are not exempted from environmental regulations, and more importantly, the corporate social responsibility to promote ethical practices.
Exerting a conscious effort to make your practices sustainable will certainly improve your company's image. With the implementation of sustainable and environmental-friendly operations, you also have higher chances of attracting clients looking to go green or be greener.
Environmentally conscious business owners are aware of the various ways human practices negatively impact the earth, and so are meticulous in selecting who they hire. They may inspect specific practices, including general pest treatment and waste management. By hiring an environmental services company, you can make your practices more sustainable and attract these types of clients while ensuring that your sites remain in optimal condition.
Finally, the ultimate reward of environmental sustainability is helping preserve the earth, or at least not contribute to damaging practices. Like any human practice, the construction industry is reliant on the environment. So, the preservation of mother earth can only benefit construction companies in the long run.
Why is Environmental Consulting Necessary for Construction Industries?
Given the responsibility shared by construction companies with all other corporations and people in the world, the benefits of consulting environmental companies in construction expand far and wide.
Firstly, environmental companies specialize in environmental concerns and solutions. This is a complicated niche in itself, which is only compounded when applied to other industries like construction. Without their expertise, your organization's efforts will skew to favor traditional construction practices. With environmental consultation, you'll receive informed, relevant, objective recommendations.
Secondly, with their expertise, you can improve decision-making. Your environmental consultant can offer data-based analysis to help you make the right decisions for your business and the environment. Consequently, they can help you save resources from erroneous decisions.
Lastly, an environmental company can help you implement meaningful sustainable practices that will be beneficial for all stakeholders in the long run.
How Can Environmental Companies Help Construction be Sustainable?
An environmental consulting company can help construction companies address issues or improve their practices with more sustainable alternatives.
Here's how an environmental consultant can help make your construction business more sustainable:
Ensure Compliance with Environmental Laws
Laws concerning the environment are relatively new, and they can be technical for someone not versed in environmental science. You can ensure compliance with all environmental laws and regulations when you work with an environmental company.
They can steer you toward safe and effective solutions that do not harm the planet. For example, with termite control in the Philippines, you may unknowingly use a chemical that is not approved in the project's location. Such mistakes may have a drastic impact on the local plants and animals in the eco system, which could have been prevented with proper consultation.
Furthermore, an environmental company may be able to recommend sustainable practices, such as for cleaning construction sites or applying pesticide before the project begins, that can help prevent pest infestations.
Improve Health and Safety Measures
One of the health hazards in the construction sector is hygiene. Construction companies must maintain the cleanliness of work areas to minimize health hazards. This includes dust and allergens, as well as toxic or hazardous waste, which must be cleaned regularly and disposed of properly throughout the run of the project.
Another benefit of environmental companies in a construction project is the provision of professional cleaning and disinfection services to help you maintain a hygienic and virus-free workplace without compromising sustainability. A company that specializes in professional cleaning and disinfection has the competencies to customize cleaning and disinfection to the needs of the location.
Hiring an environmental services company for post-construction professional cleaning and disinfection also promotes the safety of the building's occupants. Customized cleaning services rid construction sites of various debris and wastes and other potential health hazards through sustainable methods, ensuring that the space is ready for use.
Effective Pest Management
Pests are another common nuisance in construction projects. Rodents, cockroaches, termites, and many other types of pests may come to the surface through open pipes and gaps around a construction site. Likewise, other bugs may enter the site through raw materials. Once exposed to the site, they can disrupt the workflow, cause accidents or injuries, or even damage materials which will negatively affect the quality of your output.
IPM in the Philippines, especially in construction sites, focuses on end-to-end solutions to prevent and monitor infestations. Exploring a pre-construction termite soil treatment may be the right solution before you jump start you project. Meanwhile, for current infestations, tracking the root cause and addressing it with post-construction termite management is the key to successfully eliminate pests.
With an environmental company like ENTECH, you can prevent pest infestations and manage current pest problems through effective, sustainable solutions. Pest management involves the use of the right pesticides but also the implementation construction practices that can prevent future re-infestation, such as properly disposing materials that may serve as home of pests or covering gaps and exposed pipes.
Become More Sustainable with ENTECH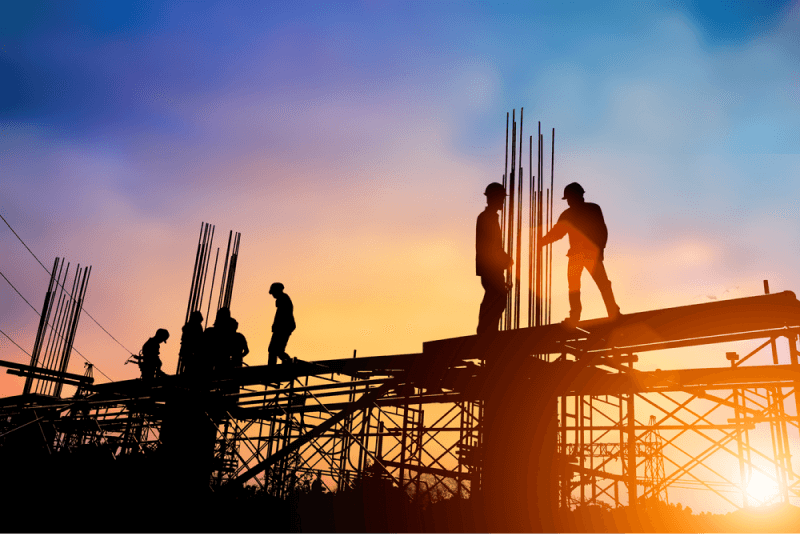 Even with seemingly simple changes, environmental companies can help construction be more sustainable. The road to environmental sustainability takes multiple small steps rather than a few large ones, but what matters the most is the desire to make your construction company more sustainable.
ENTECH, as a provider of environmental services in the Philippines, offers a wide range of services for different industries looking to go green – including the construction industry – and help companies like yours manage projects and locations in ways that do not harm the earth.
The road to environmental sustainability is long and nuanced, but not impossible. Talk to us to learn how our services can help you keep pest management effective and sustainable.